Imagine that you are standing at Trafalgar Square – screaming your thoughts to an ocean of constantly passing people. Probably not the best way to reach your potential customers, right? It is not only inefficient, but it can also get you arrested!
So how about instead to firstly find the right audience for you without having to shout aloud?
Help potential customers find you.
Creating a competitive site means so much more than just offering things you think your customers need. A good start is usually to increase the opportunity for visitors to get to the site – usually through searches through search engines.
So – before you pat yourself on the shoulders for your great content, you need to put time and resources into improving the site to rank higher on search engines.
Two ways to optimize 
There are two ways to do SEO on a website – on-page or off-page.
On-page involves performing SEO activities on the site, while off-page means that someone links to your site from other websites, blogs, and social media. You can also create these links yourself. The most important thing when it comes to external links is that they should be relevant to your site.
Smart on-page actions
Here are some suggestions on how you can improve your website by on-page actions:
Headlines
Always try to be specific when you use the main headings h1-h5. The most important or relevant shall be designated as the main heading 1, then headline 2,3,4 and 5. It helps Google understand that the main heading 1 is relevant to the content on the site. Avoid using regular text in headers use designations h1-h5 instead.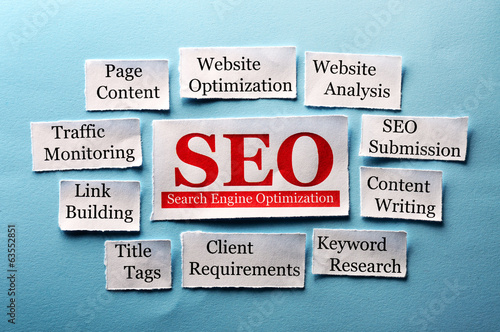 Content 
If you have good content on your pages? Good content is equal to Content that is interesting to the target audience / visitor. Content that contains relevant keywords that potential customers use when searching. Relevant content needs to be in coherence with headlines, images, and URLs. 
Pictures
Do you have an alternative text for images on your site? Search engines can not read images but only read the text. Therefore it is important that you have a description of each image to enhance the relevance and the potential for an image to be searchable on Google Images. 
On every page of your site you can add meta titles and descriptions to summarize the content of the specific page. The title needs to grab the reader's attention and will contain unique keywords for that page.
URL structure
For each unique page on the site needs to be relevant about;
Content, headlines and pictures. Make sure to have hyphens in the inner URL instead of underscores so that the search engines understand that words are separated.
Summary
Do not be lazy. Be smart and optimize your website with the help of these on-page actions.
Good luck!
This article was written by Daniel Smith from Red Rain SEO – an Irish SEO Company. Check out his LinkedIn profile here.